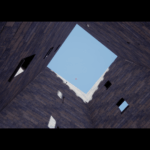 Every last working day of the current month I publish a report reflecting on the previous month. These reflections exist to demonstrate my progress, share my experiences and help transfer what I learn to others.
The Past Month
This November I took time off to prepare for the Bahrain Game Jam 2018, simplified my schedule, tapped into my investments to refocus on learning UE4 and applied for Train Jam 2019's diversity program.
I'm writing this reflection a bit late because of the game jam ending on 1st of December, and the subsequent chaos that I needed to clear up first.
Against Sahara – Current Status

Didn't work on the game this month, and have decided to postpone development for awhile and fully focus on simply learning UE4.
I needed to do this move sooner but what stopped me is my lack of cash savings which would've lasted me a couple more months at most.
But since then, I decided to cash in my stocks and bonds.
This will cover another year of living expenses, and allow me to focus on improving my UE4 skills and wait on releasing a game just yet.
Learning UE4 – Going Deeper

I have spent this past month mostly reworking my UE4 workflow and upgrading my UE4 development skills.
The difference showed in my Bahrain Game Jam 2018 (BGJ18)'s entry, where if you compare to my previous solo jam entries the upgrade in production values is quite clear.
This is a gameplay video of my BGJ18 solo entry from end of November:
This is a screenshot of my Global Game Jam 2018 solo entry from January:
You can download both and play them to see the difference from here:
Simplifying my Schedule

I've decided to let go of "gym day", and instead start the week every Sunday by studying the business side of things and doing research, while the rest of the week to be spent on whatever project am working on, whether a learning project or a commercial game.
Instead, I'm now doing shorter, more-intense bursts of exercise throughout the day, everyday and don't count it towards my work schedule.
Applying to Train Jam 2019's Diversity Program

A couple of weeks ago I saw the application for Train Jam's diversity program just 2 hours before deadline, and signed up straight away.
The team behind the initiative have accepted me into the program, am going to Chicago and San Francisco on March 2019 if God wills it.
Two of the most difficult aspects of game development in Bahrain and in the region in general, is the severe lack of quality education and access to experienced devs and game publishers or game investors.
Participating in Train Jam as well as attending the Game Developer's Conference will give me access to all of these!.
Needless to say I'm very excited, and grateful for the opportunity as the game developers community in Bahrain has been trying, and unfortunately failing, to kick-start an industry here and go beyond hobby projects for 6 years and counting, but this might finally be the catalyst towards a real industry here (hopefully).
What's Next: Going More Advanced in UE4

I'm working on a small 3rd person survival game and plan on working on it throughout December, while going back to Against Sahara afterwards.
This ends this month's report, hope you enjoyed and if you have any feedback please comment below 🙂 .